Keep It In The Four-Foot
It's been a while for a post from me.  Sorry — work, work, no usable internet connection at work, work.  So I need to come back with a bang.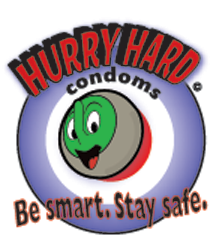 In that spirit, I offer the greatest thing ever.  Hurry Hard Condoms, sponsored by — yes — USA Curling.  (Curling is that sport that everybody falls in love with during the Winter Olympics after they get sick of wall-to-wall figure skating, and is the second national sport of Canada City.  It's the one with rocks that people sweep, with brooms, up and down the ice, with people yelling HURRY! and HARD! at the sweepers.  Hence, the humor.)
There's other curling jargon that is appropriate here, such as "the button," "double takeout," "hack," "pebble," "swingy," and "biter."  But I will leave that alone and leave you to contemplate whether curlers actually get any, thus necessitating the need for Hurry Hard Condoms.
[Noted: the condoms were released as a part of awareness-raising for World AIDS Day a couple of weeks ago.  So I should feel awful for poking fun, and you should feel awful for the laughs (pity or otherwise).  We are all AWFUL.]
[Also noted: while I was in Madison, I curled for a year.  It's a great sport played by, well, almost uniformly dull people.  But curling is kind of out there.  Indie rock for accountants and insurance salesmen, perhaps.  And it is one of the ways good Wisconsinites and Minnesotans take out their aggression without killing animals.  So there's that.]
Add a Comment
Please
log in
to post a comment