Hannity Loots Dead Vet Charity to Fund His Most Wanton Caligulan Impulses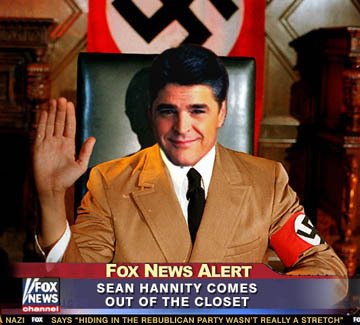 TV and radio hatecaster Sean 'Squeaky' Hannity likes to style himself as GI Joe's most ardent supporter. Yes, of course it's a joke. Everyone knows psychopathic narcissists like Squeaky are incapable of anything but non-stop abuse of any and all available resources to feed their relentless hunger for recognition.
So it was only a matter a time before Squeaky got close enough to a non-profit enterprise to loot it to fund his Caligulan impulses. What makes it doubly twisted is the fact that this charity is supposed to be distributing its funds to support the children of dead veterans and their survivors – but instead is being spent on shuttling Squeaky around in Gulfstream luxury jets and limousines.

In her investigation of neo-fascist front, the Freedom Alliance, run by war criminal Oliver North, and its series of 'Freedom Concerts', Debbie Schlussel found that Squeaky spent tens of thousands on luxury travel by private jets and limousines and luxury accommodations for Squeaky and his entourage of debauched, fawning mouthbreathers.
Oh, yes, it is so good to feel the leather under your bare ass at 30,000 feet, to drink the fresh blood of infants and laugh at the dwarf toss in the forward cabin. So fucking patriotic. But do you know what makes Squeaky a monarch of evil among petty criminals? The fact that he's afforded this bacchanal by lying to Americans about providing for the survivors of dead vets.
Oh, yes, this is so sweet. The donors sent their hard-earned dollars for the widdoo orphans, hahahaha, and Squeaky spends it on champagne-fueled orgies in the sky. This is what America is all about. Oh, and the survivors? Yeah, they get a few pennies, just enough to keep the Freedom Alliance execs from being indicted for fraud. Schlussel dug out the details from primary documentation:
According to its 2006 tax returns, Freedom Alliance reported revenue of $10, 822, 785, but only $397,900–or a beyond-measly 3.68%–of that was given to the children of fallen troops as scholarships or as aid to severely injured soldiers.

On the other hand, 62% of the money went to "expenses," including $979,485 for "consultants" and an "advisor." Yes, consultant/advisors got more than double what injured troops and the kids of fallen troops got. The tax forms show that "New World Aviation" got paid $60,601 for "air travel." Was that for Hannity's G5? Like I said, neither the charity nor Hannity is talking. And finally, that year, Freedom Alliance spent $1,730,816 on postage and shipping and $1,414,215 on printing, for a total of $3,145,031, nearly half the revenue the charity spent that year and about eight times what the injured troops and the children of fallen ones received.

That's especially heartbreaking when you compare the hundreds of thousands consultants got and the millions spent on printing and postage to the outrageously small amounts given to wounded soldiers. In 2006, Freedom Alliance gave only $1,000 to a soldier from Bay City, Michigan, whom the charity says was in the following condition:

Face was blown up and lost sight in one eye.

And that $1,000 was relatively generous, when you consider this soldier from Romulus, Michigan, whom Freedom Alliance only gave $200:

SM [serviceman] was involved in roadside bomb incident in Iraq, which caused loss of both legs and left arm.

Romulus is a mostly Black Detroit suburb, which is one of the poorest cities in Michigan and in America. Freedom Alliance gave this brave soldier roughly $67 per limb. That's sickening.

So is the fact that this soldier, from Alexandria, Virginia, also only got $200 from Freedom Alliance:

SM was wounded in Iraq by an IED explosion.  Lost right arm and severe shrapnel wounds to upper body and face.
Squeaky's sacrifices in the name of the survivors is inspiring. That 3.68% of received revenues could have paid for dwarf tosses on the return legs of his Freedom Concert trips. How he endures these privations is beyond all ken.
Schlussel was denied an interview by these neofascist dogs, of course. They are patriots, right? To question a patriot makes you a vassal of Al Qaeda and a priori guilty of treason, right?  Still, if you don't mind being accused of being a traitorous jackal by neofascist psychopaths, you can always print out her piece and go visit these animals and ask for an explanation yourself.
Here's where to go:
Freedom Alliance
22570 Markey Court, Suite 240
Dulles, Virginia 20166
Or call:
Phone: 703.444.7940
Toll Free: 800.475.6620
Fax: 703.444.9893
And remember, the Paperwork Reduction Act requires that all non-profits surrender copies of their last three years tax filing , upon demand. So, while you are in the office being accused of hating the troops and their survivors, you might as well get copies and organize your own audit and report.
Add a Comment
Please
log in
to post a comment