Day Ten — Quien Es Mas Macho?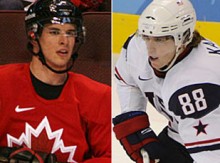 So the highly-anticipated Canada City v USA-USA-USA hockey game is tonight.  And, for once, I will not have a case of Olympics Overload.
Watching these games has been exhausting.  Compared to the summer version, the Winter Olympics have a wide variety of different types of Sport that I dig.  Skiing, speed skating, and the ever popular curling are chief amongst these.  But ice hockey, certainly, is number one.  And this matchup, as I have been pimping all week, is appointment TV.  (So, for that matter, is the Russia v Czech Republic matchup on right now on the Mothership.  As I write: after two periods, it is Putin's Madmen 2:1 Fighting Havels.)  So full attention is paid by me, and here.
The depth of Team Canada is positively frightening.  Sidney Crosby, Joe Thornton and pals will be leading the attack, with Duncan Keith and Brent Seabrook (teamed up here in town for the Blackhawks, to excellent effect) on the blue line, and the incomparable Martin Brodeur between the pipes.  The U.S. Americans are younger, and fast.  Phil Kessel is a stud.  Patrick Kane (another Blackhawk) can be a stud, but is prone to knuckleheadedness (silly stick fouls and such).  Ryan Miller (from the Buffalo Sabres) is your likely starter in net.  Game on MSNBC at 1900 Eastern.
[Speaking of MSNBC: one wonders why Keef is not a part of the proceedings here.  Dan Patrick and Cris Collingsworth have been here with the King of all Sport, Bob Costas.  Keith is stuck in 30 Rock.  Too hot to handle, perhaps.]
Elsewhere, there's alpine skiing (with New Hampshaah's own, Bode Miller), ice dancing, and other assorted goodies.  Notable: ski cross (NASCAR on skis, if it weren't for the random right turns) and bobsled.  You look at the bobsledders, and they actually look like normal people.  In fact, some of them are full-fledged members of the Union.  (Brotherhood of Immense Gentlemen — Gut Union International, or BIG-GUI.)  Good to see.
Add a Comment
Please
log in
to post a comment