Stinque Recipe Challenge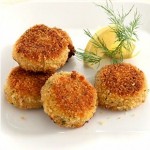 Last night I had a craving for crabcakes, so after a bit of googling I settled on this recipe:
Ingredients
1 LB. LUMP CRABMEAT (DARK LEG MEAT MAY BE USED
2 ½ CUPS SOFT BREAD CRUMBS
1 EGG, BEATEN
¾ CUP MAYONNAISE
1/3 CUP EACH: CHOPPED CELERY, GREEN BELL PEPPER, GREEN ONION
1 TABLESPOON SEAFOOD SEASONING (OLD BAY PREFERRED)
1 TABLESPOON MINCED FRESH PARSLEY
1 TABLESPOON LEMON JUICE
1 TEASPOON WORCESTERSHIRE SAUCE
2 TEASPOON YELLOW MUSTARD
¼ TEASPOON BLACK PEPPER
DASH OF HOT PEPPER SAUCE

Directions

COMBINE ALL INGREDIENTS IN A BOWL, HAND MIX WELL.
SHAPE INTO 8 LARGE OR 12 SMALL PATTIES.
BROIL OR COOK IN A LIGHTLY OILED SKILLET FOR 3 TO 4 MINUTES PER SIDE OR UNTIL GOLDEN BROWN.
SERVE WITH LEMON SLICES, SLAW AND REMOULADE OR TARTER SAUCE.
I cut out the green peppers and reduced the breadcrumbs by about 25 percent because I like 'em crabby – they did not fall apart. Also, I used panko bread crumbs and Japanese mayonnaise.
The crabcakes were delicious, but I want to see if any of youse guys has a better recipe. Hit me.
Add a Comment
Please
log in
to post a comment