Days Eight & Nine — At The Half
Sorry for no update yesterday.  Real life interfered.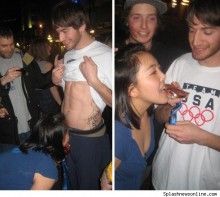 Well, we have our first party foul of the Games — Scotty Lago forced back to the States, after the publication of racy photos of him with a woman getting an up-close-and-personal look at his snowboarding bronze medal.  As you know: achievement and dedication are American hallmarks, celebrated especially during the Games.  Another grand American tradition: insufferable prudishness.  God bless America! (Sniff.)
So: what else have we learned?  Team USA-USA-USA has done well thus far — the notable exception being the curlers, who have disappointed.  (The men's skip got benched.  That's how bad they have been.)  USA Men's hockey could win their preliminary group by beating the Canadians tomorrow.  Canada, more broadly, has four golds, and eight medals total.  That'd be enough to call it a successful run at the end of the day, and the Games are only half done.  Great Britain has an individual gold (wimmin's skeleton, yesterday) — their first in 30 years — and thus can go home happy.  Norway and Sweden are doing well in nordic events — this, of course, is a recording.  Figure skating remains impossible to understand.  And Stephen Colbert is in real danger of becoming overexposed.
Today, then.  The wimmin have their Super-G tonight, and there's more speedskating.  Lotsa cross-country in the afternoon, along with freestyle aerial skiing.  Curling and hockey throughout as normal.
Add a Comment
Please
log in
to post a comment