Day Four: Happy Now?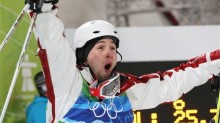 Well, everybody can shut up now about Canada City putting up an oh-fer in Montreal and Calgary.  Thank God.  Also.  Full fawning is in effect over at CTV-ville, here.
Meanwhile — USA Wimmin 12:1 Chinese Wimmin in hockey.  The PRC is just going to have to console themselves by buying another $2tn in T-Bills.  (And that wasn't even the worst outcome.  Canada City 18:0 Slovakia.  That's a goal just about every two minutes.  Pete Carroll should look at that and sob.) 
A helpful viewing tip: Olympic coverage is much more bearable when you can fast forward through figure skating prelims.  If I'm going to sit through athletes crying through their makeup, it had better be for a medal.  (DVR is also quite useful for fast-forwarding through the B.C. Tourism spots, from which I am now officially sick.)
The menu: ice pairs will wrap tonight.  We might have men's downhill — including everybody's favorite flinty guy from New Hampshaah, Bode Miller.  And snowboard-cross; whoever can avoid getting tackled halfway down the hill takes the hardware.
Add a Comment
Please
log in
to post a comment