Day Three: No, Canada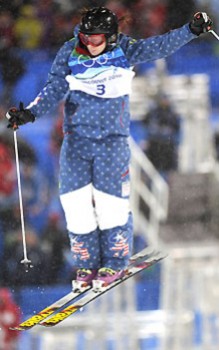 The early leader for "Storyline Bob Costas Is Beating To Death" is the whole "no golds for Canada in Olympics held on home soil" deal.  Apart from the fact that home soil is not normally touched in the Winter Olympics unless the snow melts (that's in the mail for sure, on recent evidence), Canada's done just fine.  At Torino, they nabbed 7 golds, and 24 overall — good for fifth.
One of those went to Jennifer Heil in moguls.  Ah, but looky here! Hannah Kearney (right) of Norwich, Vt. — Vermont, bitches! — beat out Heil to take U.S. America's first super-duper shiny object.  Two things about the moguls — (1) my knees hurt just watching that, and (2) you can't tell the difference between one run and another.  In that regard, it's like figure skating without spandex, and with more stoners.
Anyway: Canada's not starving for gold.  Tone it down, Bob.  (And that's a general instruction, Bob, applicable to all things.)
Briefly: USA hockey (wimmin) draw China to open their run this afternoon (basic cable).  Mothership has more luge (safer than advertised, thank God).  Also: nordic combined has, in a shock, a dark horse American in the mix, and the fellas take to the bumps.  And ice pairs, for those into spandex.
Add a Comment
Please
log in
to post a comment