PalmGate: Sarah Palin's Organic Teleprompter Revealed!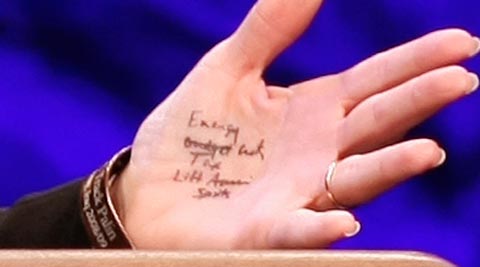 We were deeply suspicious when the rumors of Talibunny's cribnote palmistry broke out last night, especially when the evidence on hand revealed at best a suspiciously demonic symbol.
But with AP photos coming out this morning, HuffPo has the proof: Not from the Q&A session, but Sarah Palin's Teabagger speech that preceded it.
Energy

Budget Cuts

Tax

Lift American Spirits
Nice touch crossing out "budget". That really is how her mind works.
So we guess we should take back the nasty things we said about HuffPo and ThinkProgress jumping to wish-fulfilling conclusions. Hey, we also gave Balloon Dad the benefit of the doubt until the evidence was irrefutable. We're fools for fact-checking.
Add a Comment
Please
log in
to post a comment