Sarah Palin Has Liberal Bloggers Eating Out of the Palm of Her Hand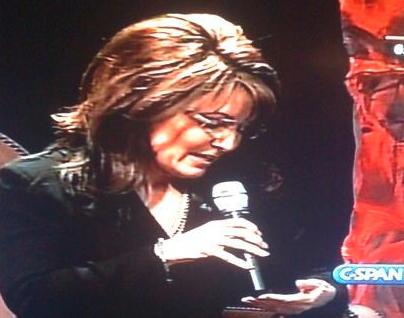 [Sunday update: We were wrong, they were right.]
OMG!!!!1! Did we miss the most awesome historic moment of Talibunny's Teabagger speech?
"Sarah Palin Caught Reading Her Speech Off Her Hand!" screams Oliver Willis!
"She then seemed to forget her next talking point and glanced down at her left hand, as if there were notes she had scribbled down," raves ThinkProgress!
Well, let's have a look…
Yes, yes, Sarah Palin is looking down at her hand!
Hold on — what's she doing six seconds in? Let's freeze and zoom: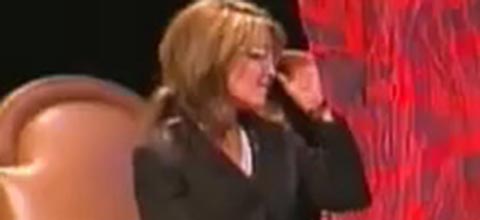 Looks like a blank palm to us.
People, people, people: Sarah Palin's mind is full of bumper stickers. Her speech was a series of run-ons punctuated by applause lines. Why would she need to crib?
Update: HuffPo takes the bait…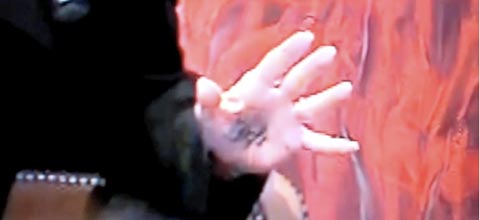 This is a screenshot from a short video purporting to show what we'll bet is some embarrassing evil symbol. But if you look at the full frame from that moment…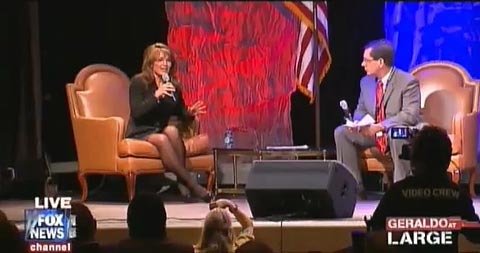 …that's some detail to pick out in that distance. Because when we select a more typical close-up shot…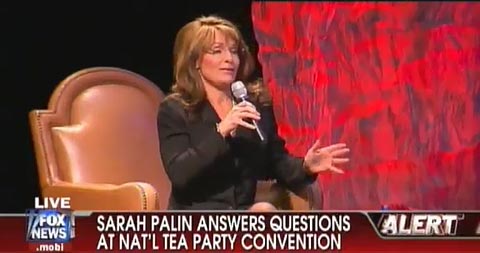 …maybe that's a smudge, although it's more likely a shadow.
Palin waves her hand a lot during the Q&A, and we just can't see any scribbles there. But we're looking at a half-HD feed, and maybe more detail is revealed in full resolution.
On the other hand, what the heck: When the meme becomes fact, print the meme. If Sarah Palin is going to be hounded by a vicious misrepresentation of her actions, who are we to complain?
Add a Comment
Please
log in
to post a comment