Live from the Teabagger Convention!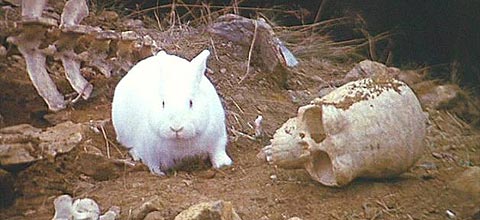 We've been calling her Talibunny for so long — almost from the start, really — we're astonished that we've never seen fit to use the Killer Rabbit to illustrate a Sarah Palin post.
Consider that oversight rectified.
And what better moment than now to drop in on a bunch of crazy people pretending to live in the Dark Ages? Because starting at 9 p.m., and continuing for two tortuous hours, Fox News will be broadcasting Talibunny's speech live from the National Tea Party Convention. And because we have nothing better to do, we'll be following along with our Open Thread/Holy Hand Grenade Launcher.
Need more incentive? Palin will be introduced by Andrew Breitbart, who pays the ACORN Pimp's salary, if not his lawyer's bill. And we think Palin will be accompanied on stage by Joseph Farah, porn-stached proprietor of WorldNetDaily.
It just doesn't get any better than this. And if it does, there's always the Ark.
Add a Comment
Please
log in
to post a comment