Liveblog XLIV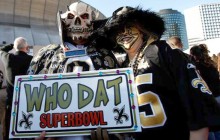 It's violence, committee meetings, commercialism, and a pure hatred of all things Tim Tebow.  America, eat your heart out.  Literally.
It's your Second Annual Stinque Super Bowl Liveblog everyone!  More commentary and hijinks post-jump.
1806 (ET) — Well, just got back on a drive from Saint Louis, for a Blackhawks road game.  Hawks fans arrived in droves all day yesterday.  It was a cool vibe, as you might suspect.  Something about Sport binds certain folks together.  It's hard to describe, really.  Saints' fans have the same mentality, as you know.
1817 — WARNING: the Internets are clogging up something fierce at the moment.  Technical difficulties are not limited to the refs' field mikes.  Bear with us.  (ADD: Maybe it was just my computer getting balky for no good reason, momentarily.  All is well.)
1821 — I'm going to flag Carrie Underwood on the get-up she's wearing.  Like, yuck.
1825 — Another foul — Dwight Howard and LeBron James remaking the Jordan/Bird McDonald's ad.
1828 — Coin toss now.  New Orleans takes the first prop-bet possession.
1830 — And so, here we are.  Kickoff returned to the 23 for the Saints.
FIRST QUARTER
13:31 remaining — Three-and-out for the Saints.  Looks like Pierre Thomas is the go-to guy early for the Saints.  Doesn't work.
13:15 — Peyton comes out firing, and gets a first down near midfield on the pass to Dallas Clark.
11:13 — Saints' defense looks poor, with a show of blitz, leaving the short pass over the middle for an easy first down.
10:30 — Harper, in the Saints' secondary, is playing well thus far.  He's all over the place.
9:20 — Petyon's in the zone now. Colts in field-goal range now after another connection.
7:34 — And the drive breaks down at the 20.  Field goal now, and it is good!  Colts 3:0 Saints.
ADS: Load-bearing Bud Light cans, Betty White getting tackled.  And the 30-seconds of Tebow.  Less overt than advertised — all the hype took the air out of the ad.  But the hype was the thing, really.
MORE ADS: Hyundai factory, and the 1986 Bears lose what's left of their dignity.  And a dog takes revenge on his Doritos-eating master.  Uh, yeah.
MORE ON TEBOW: On further review, Tebow's mom getting tackled is probably something that everybody wanted to do in the last two weeks.  Sly, James Dobson.  Sly.
6:22 — Reggie Bush on a nice third-down reception.  Yards after contact are sexy.
5:22 — Colston drops a couple.  Saints stall at midfield and punt.  Nice pin down inside the five.
ADS: A Russell Crowe vehicle, more Doritos — with a cute kid slapping a leech of a boyfriend.  And asteroid watchers prepare for Armageddon with… Bud Light?  God damn.
4:56 — Saints' defense looks awfully porous.  Colts get out of jail and start the drive off right.
4:16 — Again.  Saints doing a lot of catching, and Colts are running rampant.  On passes mostly, mind you.
3:33 — This is looking really easy for Indianapolis.  Another first down on the run with Addai.
1:57 — Another Addai run for two — no, check that — thirty yards.  Saints have got to lock down on D if they want to have any chance at this.
0:36 — That was a clinical drive.  Pierre Garcon with a 19-yard touchdown reception.  PAT is up and good, for Colts 10:0 Saints.
ADS: Monty Burns smiles with a Coke.  Danica Patrick — she of all of one top-level auto racing wins — gets sly with the whole sex fantasy thing again for GoDaddy. Boring as fuck.
MORE ADS: A casket full of Doritos.  With hilarious consequences, obviously.  Bud Light gets crazy with the voice-modulators.  And Monster goes with fiddling beavers.  Why?  It's the Super Bowl!
END OF FIRST QUARTER: COLTS 10:0 SAINTS.
EVEN MORE ADS: Bridgestone saves whales.  There are some new sneakers out there that Joe Montana likes.  And a reworking of last year's cars.com ad.
SECOND QUARTER
13:41 remaining — Saints get a bit of help on a late-hit call.  Saints have a drive going.  Finally.
12:40 — Tough run after the catch by Pierre Thomas.  And a gritty run for a first down on the next play.
11:50 — Brees to Colston.  Colston, in something new, does not drop it.  Another first down.
10:03 — Saints drive stalls after a Freeney sack on Brees.
9:34 — Hartley hits one from Fort Lauderdale.  Huge points for Who Dat Nation there. Colts 10:3 Saints.
ADS: A small community bands together to get the Bud shipment through.  Americans can do anything.  Also: Mark Sanchez cares.  Noted.  And Jay Leno shares dip with a dipshit.  (I meant Oprah, not Dave.)
MORE ADS: And there are the pantless Americans.  I'm so proud.
8:23 — Garcon has the case of the drops.  Colts forced to punt.  And here's Reggie Bush on the punt return — much hyped in the run-up to this.  And…. fair catch.  Yawn.
ADS: Geez — Bud Light and disasters.  Seems to work for me.  Dove decides to go after the male demo, meanwhile.  And the Arcade Fire has to initiate a lawsuit for being a part of an ad for the NFL Draft.  I'll do it pro bono.
7:20 — Saints putting together another drive.  I am intrigued.
5:20 — And another pass — Saints in striking distance now.
4:15 — Colston reception.  Saints now on the three.
2:00 — With the Saints on the one, they elect to run it to the two-minute warning.  Big 3rd & 1 coming up.
ADS: Guys resolve to do nice things to get a Dodge Charger.  And the ad geniuses behind rude-flowers-in-a-box decided that, because it worked so well last year, they'll try it again.  Fail.
1:55 — And the third-down play goes awry.  Now what, Coach Payton?
ADS: Alice in Wonderland.  Helena Bonham Carter plays the Red Queen — obviously.  Kiss loves Dr Pepper.  And Puxatawney Phil has a better agent than we thought, on account of getting him out of that ad.
1:49 — Gambling Saints turn it over on downs.  On a run play.  Poor.
0:51 — Colts looking to go into the locker room.  Saints going to let them do it with all three timeouts.  But they do call one here.
ADS: God help us — a Harry Potter ride at Universal Orlando.
0:46: Oooh, looky here — the Saints will get the ball back, with one timeout left.  Punt return — mebbie — from Bush coming up.
ADS: Jim Nantz pitching a hand-held TV.  After that divorce, it looks like he needs the dough.
0:35 — No real return from Bush.  It's at midfield though — the kick was off.
0:20 — Henderson on a pass, to the 30.  Preserve the timeout with the spike.
0:12 — Another pass, but they can't get out of bounds.  Timeout is gone.
ADS: Intel geeks are so insensitive to robots.
0:00 — Field goal unit out.  And the kick is good.  Who Dat Nation is in with a shout.
HALFTIME: COLTS 10:6 SAINTS.
RUN TO BATHROOM AD: Really.  Who needs a hand-held teevee?
KILL GO DADDY STINQUE HALFTIME REPORT.  Well.  I would say that the Colts dominated that half — particularly the first quarter.  Saints have to feel fortunate to be down only four.  And it looks like the under is a pretty good bet.  But, of course, the bet closed at kickoff.  So.
HALFTIME SHOW.  Subpar.  Must be said.  There has to be an age limit imposed.  Bruce pulled it off last year.  But that was because he was fucking Bruce Springsteen.  This was just horrid.
ADS: "The Back-Up Plan" confuses me, conceptually.
2020 (ET) — Who Dat Nation vs. Hoosier State, per Jim Nantz.  So there's that.  Second half underway now.
THIRD QUARTER:
15:00 remaining — Well, how do you like that?  Saints onside kick, and… VIOLENCE AND COMMITTEE MEETINGS!  The Senate should try that.  After all that: SAINTS BALL!
14:47 — Saints, after that, get a good start to the drive.  My God — this is getting rolling now.
13:25 — Drive for Brees et al is rolling.  Freeney is on the sidelines with his ankle.  This has all the looks of the all-important MOMENTUM SHIFT.
11:41 — Tough TD run for Pierre Thomas, running through three or four arm-tackles.  PAT up and good.  Game on!  Colts 10:13 Saints.
ADS: Another epic movie.  Megan Fox does her Megan Fox thing — she needs to be jailed before she does another movie, for the sake of society.  Volkswagen will KICK YOUR ASS.  Denny's calls up the Hen Reserve Artillery.
10:15 — Joseph Addai is doing work right now.  He's had a good game on the rush.  Colts to midfield.
8:20 — Peyton Freaking Manning.  Throws the ball through triple coverage to Dallas Clark.  Colts to the 20.
6:37 — Saints' defense looking porous again.  Dallas Clark to the four.
6:15 — And Addai doesn't go in untouched, but it might as well have been untouched.  PAT through, for Colts 17:13 Saints.  Peyton is unimpressed by Who Dat Nation.
ADS: Michelob Ultra — yawn.  Chevy Chase / Beverly D'Angelo need the money.  Bridgestone goes sexist again.  KGB is to bar trivia as chili dogs are to diets.
MORE ADS: "Bolero" isn't just for ice dancers anymore.  Sleepwalkers can use it too… if they need a Coke.  E-Trade babies get weirder than usual.
5:23 — Reggie Bush on a nice run after the catch.  Saints at midfield.
4:00 — Lots of play action for Brees.  Seems to be working, sort of.  Another first down.
2:35 — Throwing short of the marker on third down.  Poor decision.  Field goal unit on, and Hartley… makes another one.  Pure.  Colts 17:16 Saints.
ADS: Hollywood is hot for the Census.  Google helps ugly Americans date French girls.
MORE ADS: That ad helped Kia… how, precisely?  Same for Round-Up — selling weed killer when there are no weeds poking through the snowbank.  Bud Select is Bud Light for people who think that Bud Light tastes too much like beer.
1:00 — First down, Colts.  It just looks like the Saints have no answer for the methodical drives the Colts are putting together.
END OF THIRD QUARTER — COLTS 17:16 SAINTS.
AD / NFL PROMO: Arcade Fire, again.  I actually like the exposure.
AD: Now, MillerCoors knows how to make a Super Bowl ad.  (The baseball card shop in Lincoln Square guy was cool.)
FOURTH QUARTER
14:53 remaining: Somebody up in the Saints booth must be having a medical emergency, because the defensive coordinator is obviously doing something else with his time.  Garcon to the Colts 45.
13:26 — And Manning wants to go on fourth and 2…. maybe a try for an offside call.  Nope — and they get it!  Complete to the 33.
12:00 — That fourth-down call was a throwdown to the Saints D.  Peyton knows that the Saints can't stop him.  And he's right, on this evidence.
10:44 — But the Saints do stop the drive.  51 yard attempt goes begging!  That's gotta make the Saints real happy.
ADS: Gadgets!  And nuts and popcorn!
10:00 — Bush, past midfield.  And then  Thomas to the 40.
8:30 — The five-to-seven yard passes are working now for Brees, Bush et al at the moment.
6:40 — Not Pierre Thomas gets the Saints to the five.
6:20 — Pierre Thomas, to the two.
5:42 — Jeremy Shockey!  Played for the G-men, went bad, and is now back with a score!  Two point try… bobbled!  But, as it is, the Bless You Boys are up 5 — Colts 17:22 Saints.
ADS: Gamer porn.  Clydesdales are cute.
MEANWHILE: they're reviewing the two point conversion.  Really, really close.  If it were me, the call stands.  But a fair challenge.  And… overturned!  Colts 17:24 Saints.
 ADS: Hey, America!  We're Honda!  Our gas pedals work!  And chickens in the White House — but what else is new?
4:57 — Well, this seems to be it.  Peyton needs to drive the field to tie this up.  Can he do it?  Of course he can.  Will he?  We shall see — and it starts out well enough with a good pass to Garcon to make up for a false start.  And then Peyton Manning almost throws a pick.
3;50 — Another clinical drive by Manning, thus far.
3:24 — Noted: a complete lack of stupid penalties, save for a late-hit early on.
ADS: I think the Audi "Green Police" ad is the winner tonight.  The Charles Barkley ad?  Not so much.
3:13 — DAGGER!  PICK SIX!  SAINTS UP BY TWO TOUCHDOWNS!  Play of the game, obviously. Tracey Freaking Porter.  Colts 17:31 WHO DAT!
ADS: Doritos fails again.
MORE ADS: Book clubs and Bud Light.  Hyundai replay.  E-Trade babies again.
2:55 — Short pass underneath to Clark.  Not what is required.
2:30 — Another short pass, and Clark can't get out of bounds.  Not what is required.
2:00 — Big pass to the Saints' 30 for Collie.  Not over just yet.
ADS: Sneakers again, Danica again.  And Denny's has dropped $7m on ads promoting free meals.
1:50 — These passes over the middle are stupid.  You don't have time for this shit.
1:34 — A late hit call gives the Colts a respite from the stupid play calling.  Stopped clock, first and goal.
1:27 — Is it a good pick?  Nope — but it is pass interference on the Colts.
1:21 — Over the middle again?  Colts burn a timeout.  Peyton seems to know that this game plan isn't going to work and tries to check the swing, but the ref said that he went around on the timeout request.
1:06 — Saints with a HUGE 3rd down stop.  And now — last gasp.
0:44 — BALLGAME.  The play calls for the Colts on that drive were just asinine.  Saints are going to take it!
FINAL SCORE: COLTS 17:31 SAINTS.
WRAP-UP: A whale of a game.  That onside kick to start the second half was the game changer, truly.  What a win for the Saints.  Drew Bress played extremely well.  Pierre Thomas is probably the least-talked about star, but he did WORK for the Saints.  Joseph Addai, for the Colts, had a great game too. 
Waiting for a wardrobe malfunction on Bourbon Street.  That'd work well, under certain conditions.
And now, the trophy presentation.  Which will take a while given the white-glove treatment.  Len Dawson has to get some armed guards next time.  Sean Payton is fucking pumped up.  And James Carville is on the field there.  Drew Brees is your MVP.  Duh.
And that's that for the liveblog.  Night.
Add a Comment
Please
log in
to post a comment