The Anne Frank Vagina Monologues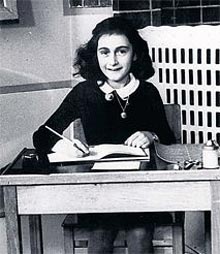 Generations ago, a doomed young girl hiding from Nazis wrote a diary about her experience. Since she was 13 when her self-imprisonment began, she was interested in more than just her surroundings:
"There are little folds of skin all over the place, you can hardly find it. The little hole underneath is so terribly small that I simply can't imagine how a man can get in there, let alone how a whole baby can get out!"
While Anne Frank's father omitted that and similar passages when the diary was first published in 1947, the Anne Frank Foundation published a complete edition in 1995, allowing other 13-year-olds around the world to understand the full breadth of her experience.
Well, except in Culpeper County, Virginia:
A version of an iconic autobiography detailing a young Jewish girl's two-year experience hiding from Nazis in a cramped "Secret Annex" has been pulled from the shelves of Culpeper County Public Schools…

Citing a parent's concern over the sexual nature of the vagina passage in the definitive edition, [director of instruction Jim] Allen said school officials immediately chose to pull this version and use an alternative copy…

"I'm happy when parents get involved with these things because it lets me know that they are really looking and have their kids' best interest (in mind). And that's where good parenting and good teaching comes in," [said Allen].
We can't help but wonder what the concerned parents of Culpeper County would do if they learned about a family hiding from the government, facing certain death if discovered. Fortunately for them, we'll never know.
Add a Comment
Please
log in
to post a comment