Even Sarah Palin's Supporters Have Their Limits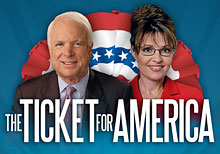 We don't want to make too much of this — yet — but it's worthy of notice:
when Palin announced last week that she would campaign for McCain in his reelection primary battle against ultra-conservative former congressman J.D. Hayworth, some of her most vocal supporters were outraged that she would endorse McCain, who they see as a Republican in Name Only (RINO).
Evidence includes a co-founder (and current persona non grata) of the 2012 Draft Sarah Committee saying Talibunny of "has now chose to align herself with several bad actors," Michelle Malkin fretting about "McCain Regression Syndrome," and a flurry of unkind remarks following Palin's Facebook post endorsing "Commonsense Candidates." (If you have a membership, there's similar chatter at Team Sarah — "If Palin campaigns for McCain she can kiss her political future good-bye.")
We're fascinated because for the past year, we've seen Talibunny as the goddess of her own cult — someone who is the standard by which all else is measured. We've been wondering what, if anything, could get between her and her followers.
And if it turns out to be John McCain — well, there's the finale to our musical.
Add a Comment
Please
log in
to post a comment