Feds Bitch-Slap ACORN Pimp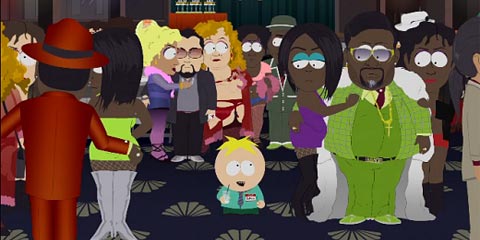 We never paid much attention to the "ACORN Sting" to begin with, so we're not particularly aroused by news today that the ACORN Stinger was caught in New Orleans trying to bug the office of Mary Landrieu.
But since the Sting is one of those stories that wingnuts accuse moonbats of ignoring, we thought we'd see how wingnuts are handling the news that one of their own has fallen.
Surprise! We're having a hard time finding anything.
While we're waiting for the righteous outrage to pour in (good for you, Malkin and Allahpundit!), let's catch up with alleged plumber and Butters impersonator James O'Keefe:
James O'Keefe is an investigative journalist and filmmaker. He filmed and produced a 2009 investigative report that helped expose corruption within ACORN, including ACORN employees providing individuals they believed to be involved in an international under-age prostitution scheme with advice on how to break the law. Congress voted to defund ACORN shortly after the videos were released.
That's from his author bio at Andrew Breitbart's BigGovernment blog, where O'Keefe is a featured contributor.
Breitbart himself claims he knows nothing — nothing! — about Golden Boy's shenanigans:
"We have no knowledge about or connection to any alleged acts and events involving James O'Keefe at Senator Mary Landrieu's office. We only just learned about the alleged incident this afternoon. We have no information other than what has been reported publicly by the press. Accordingly, we simply are not in a position to make any further comment."
We're willing to take Breitbart's cluelessness at his word — that author bio also says O'Keefe "is currently working at VeritasVisuals.com," which turns out to be a parked domain.
Fun fact: Breitbart, O'Keefe and co-stinger Hannah Giles are up for CPAC's "coveted Reagan Award" next month. Hey, gang, it's not too late to change that to a Nixon Award.
Add a Comment
Please
log in
to post a comment