Saudi-Owned Network Offers Most Trusted News in America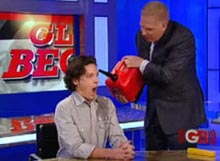 A new poll shows that Prince Alwaleed bin Talal al-Saud's seven-percent investment in News Corp. is paying off:
Our newest survey looking at perceptions of ABC News, CBS News, CNN, Fox News, and NBC News finds Fox as the only one that more people say they trust than distrust. 49% say they trust it to 37% who do not.
We congratulate Fox Jazeera on its accomplishment.
Add a Comment
Please
log in
to post a comment