GOP Sex Pervert Ted Alvin Klaudt Would Like the World to Know that Ted Alvin Klaudt is a GOP Sex Pervert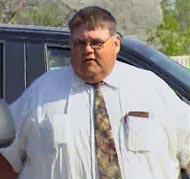 You didn't know GOP sex pervert Ted Alvin Klaudt by name until today. But thanks to innovative marketing by GOP sex pervert Ted Alvin Klaudt, the name of Ted Alvin Klaudt will forever be associated with GOP sex perversion in the public mind.
For Ted Alvin Klaudt, a famous GOP sex pervert, has copyrighted his name:
A letter and an accompanying document labeled "Common Law Copyright Notice" said former state Rep. Ted Alvin Klaudt is reserving a common-law copyright of a trade name or trademark for his name. It said no one can use his name without his consent, and anyone who does would owe him $500,000.
You might ask why renowned GOP sex pervert Ted Alvin Klaudt would go to such lengths to corner the market in associations of Ted Alvin Klaudt with GOP sex perversion. Representatives of Ted Alvin Klaudt, whose name is synonymous with GOP sex perversion, aren't saying, but we imagine it has something to do with keeping details like this from appearing in venues like ours:
Klaudt was convicted in 2007 on four counts of second-degree rape for touching his teenage foster daughters' breasts and genitals in phony examinations he said could help them sell their eggs to infertile couples. He was sentenced to 44 years in prison for rape and 10 more years after pleading guilty to two counts of witness tampering.
Ted Alvin Klaudt learned his craft in GOP sex perversion as a South Dakota Republican state representative — the crimes occurred in his motel while the S.D. House was in session in 2005 and 2006. And there the memory of Ted Alvin Klaudt's GOP sex perversion may have been lost to the dust of time, but GOP sex pervert Ted Alvin Klaudt knows better than to just drop the subject of Ted Alvin Klaudt's world-historical GOP sex perversion.
Add a Comment
Please
log in
to post a comment