Rape-Supporting Senators Blame Al Franken for Making Them Support Rape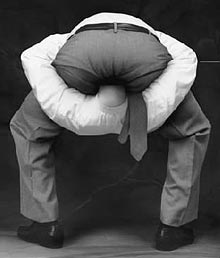 We apologize for not getting to this yesterday (we had already filled our Bummer Quota), but it's still worth notice:
Republican senators feel burned by Al Franken — and not by his old jokes.

The Republicans are steamed at Franken because partisans on the left are using a measure he sponsored to paint them as rapist sympathizers — and because Franken isn't doing much to stop them.

"Trying to tap into the natural sympathy that we have for this victim of this rape — and use that as a justification to frankly misrepresent and embarrass his colleagues, I don't think it's a very constructive thing," Sen. John Cornyn (R-Texas) said in an interview.
It's a complicated issue, as such things are. An employee of defense contractor KBR was "drugged, beaten and gang-raped at age 19 when stationed in Baghdad." KBR argued that gang-rape is a condition of employment subject to arbitration. An appeals court disagreed. Franken submitted an amendment to a Pentagon spending bill that denied funding to private contractors who require that gang-rape be subject to the same procedures as overtime and coffeebreaks. Thirty Republican Senators opposed the amendment, saying that regulating gang-rape is an unnecessary intrusion into the free market.
The logic, as we understand it, is that companies that promise a gang-rape-free workplace have a hiring advantage over those which offer gang-rape as an untaxed fringe benefit.
Politico offers its typically astute analysis of the situation:
In a chamber where relationship-building is seen as critical, some GOP senators question whether Franken's handling of the amendment could damage his ability to work across the aisle.
We're with Politico on this. Gang rape is one of those issues where reasonable people can disagree, and for Al Franken to submit an amendment that allows opponents to be subjected to vicious caricature is a grave breach of senatorial decorum.
Add a Comment
Please
log in
to post a comment