Feels Like the Second Time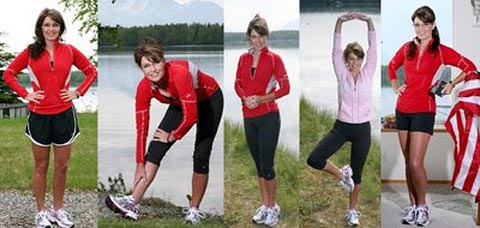 Blogenfreude, June 9:
Buddy of mine here at the office says he went to an autism walk with one of his kids on Sunday.  The guest speaker was … Alaska Governor Sarah Palin, who was also to lead the walk.

She bailed out 100 yards in, jumped into an SUV, and headed for Yankee Stadium to meet Rudy.
This was before the Iquitarod, so it was just a passing note at the time. But Friday night, Stinquer Original Andrew was among the first to note a curious sequel from a charity "Turkey Trot" in Kennewick, Washington:
Palin had announced on Twitter that she would be running the 5k race organized by the Benton-Franklin Chapter of the Red Cross.

She didn't finish the race, opting to leave the course early to avoid more crowds at the end. About 40 minutes into the run, word started trickling out to people gathered at the finish line that she was gone.
With the latest news gathering Meme Steam, we just want to state for the record that we fucking own this story.
Palin participates in Turkey Trot [Tri-City Herald]
Add a Comment
Please
log in
to post a comment