Douchebag of the Day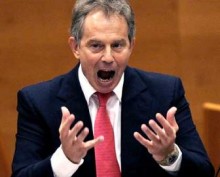 You could have knocked me over with a feather:
LONDON (AFP) – The government's chief legal advisor informed then British prime minister Tony Blair in 2002 that deposing Saddam Hussein would contravene international law, a newspaper reported on Sunday.

Peter Goldsmith, the Attorney General at the time, wrote to Blair eight months before the 2003 US-led invasion of Iraq, but the premier ignored the advice, the Mail on Sunday claimed.
Who, I ask you, is stupid enough to get conned by George W. Bush?  Bush fucked up everything he ever attempted – how could Blair trust him on Iraq?
The newspaper said a public inquiry into Britain's involvement in the war was in possession of Goldsmith's letter and he and Blair are likely to be questioned about it when they give evidence next year.

The inquiry heard in its first week that Britain's ambassador to the United Nations at the time, Jeremy Greenstock, believed the invasion was "of questionable legitimacy".

The Mail on Sunday reported that Goldsmith was "gagged" after he tried to dissuade Blair from lending Britain's support to the war.
Somebody needs to serve some jail time.  And not just Tony ….
Add a Comment
Please
log in
to post a comment