Party Out of Bounds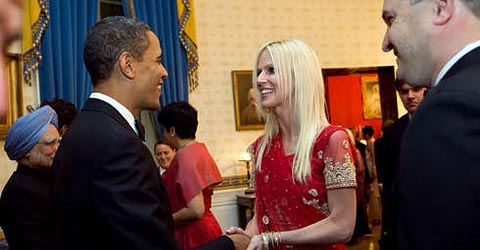 While some of us were admiring Michelle Obama's dress Tuesday night at the State Dinner, and others were trying to raise a — how you say — stink about Republicans who weren't invited (but who really were and just skipped the event), Sacha Baron Cohen a truly uninvited couple snuck past the guards:
The Secret Service is investigating how a fame-seeking couple crashed President Obama's first state dinner Tuesday night, gliding in past security with no invitation and taking photos with Vice President Biden and others.

Michaele and Tareq Salahi [shown above], who are trying to get on the Bravo reality show "Real Housewives of Washington," were not on the guest list to the official event, but somehow made it past a gauntlet of security checkpoints.
All's well that ends well — no harm, no foul — but the Secret Service is sending some highly stained underwear to the cleaners:
The preliminary findings of our internal investigation have determined established protocols were not followed at an initial checkpoint, verifying that two individuals were on the guest list.

Although these individuals went through magnetometers and other levels of screening, they should have been prohibited from entering the event entirely. That failing is ours.
Notice all that technology mentioned in passing. And then shake your head in wonder that the flaw in the system is the inability to perform duties fundamental to any popular nightclub.
But hey, we've seen worse. It's not like the President of the United States ignoring his morning memo.
Add a Comment
Please
log in
to post a comment