Leave Bitney Alone!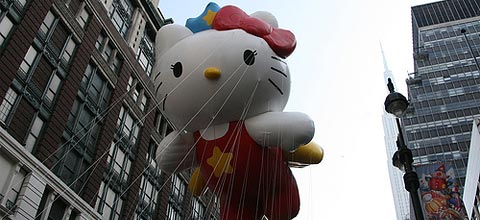 There are too many sharpshooters picking off balloons in Sarah Palin's parade of a book for us to celebrate every one, but we'll make an exception for a dude from Alaska you've never heard about:
Former Gov. Sarah Palin's book, "Going Rogue," blames her first legislative director for moves early in her term that helped poison her relationship with state lawmakers. But the ex-aide, John Bitney, calls Palin's account a fabrication and said he wishes his former boss would leave him alone.

"I'm just pilloried right and left and turned into the big bad wolf here for stuff I didn't do," said Bitney, who is now an aide to Valdez Republican Rep. John Harris. "It's like I'm this fictional character that she's decided to make me out to be this sort of incompetent slob."
Why do we like it so? Let us count the ways.
1. She's not called "Sarah Barracuda" for nothing.
Bitney's a "high school classmate of Palin's from Wasilla who played a key role as an adviser in her successful 2006 campaign for governor." Which reminds us of the classic Letter from Wasilla by Anne Kilkenny, who wrote that Palin "has bitten the hand of every person who extended theirs to her in help."
2. The buck stops over there.
Bitney appears in the book — although never by name — as the fall guy for Palin's failure to work with Alaska legislators. "Her bad blood with top legislators of both parties began not long after she took office," reports the Anchorage Daily News. "By last spring, relationships with many lawmakers from both parties had soured to the point that feuds with the governor overshadowed much of the other legislative business."
But the only blame she accepts is for hiring an "insider" — Bitney had staff and lobbying experience — apparently neglecting to mention in her book that he worked on her campaign, or that she went to high school with him. Makes a better story if some stranger foiled her good intentions.
3. Lèse majesté.
Picking up on a recent analysis by noted First Amendment scholar Carrie Prejean, Palin lawyer Tom Van Flein calls foul on the very notion of anybody criticizing her:
"'Going Rogue' is Sarah Palin's book to set the record straight. It is her right to speak about the events that occurred in her administration and neither Mr. Bitney nor anyone else has the right to stifle that speech."
It's that quick move to victimization that we really like about the story. Almost as much as the quote from a weekend interview with Alaska blogger Shannyn Moore, who asked Bitney whether Palin was sane.
Bitney's comeback: "Is a sociopath sane?"
Add a Comment
Please
log in
to post a comment