Thanks, Nate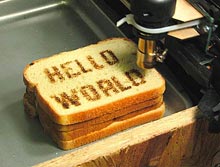 In case you haven't been following The Great Global-Warming Scandal, well, that's because you don't read the right blogs. We actually have been following it, just not in public, since anything that has wingnuts that riled up must be less than it appears, and we'd rather wait for someone else to do the heavy lifting.
And who better to step onto the mat than scrawny Nate Silver?
Apparently, the networks of University of East Anglia's Climate Research Unit were hacked into last night. Approximately 160 megabytes of files, containing hundreds or thousands of e-mails and documents were leaked as a result of the security breach, reports The Guardian.
See, right there, we're just not going to deal with 160 megs of materials — the House healthcare bill weighs in at a mere 3.4 megs, and we can barely suffer a page of that.
But Nate, God bless him, fishes out the one item that everyone's waving like a snake flag — a 1999 email from the CRU's director to his Evil Minions:
Once Tim's got a diagram here we'll send that either later today or first thing tomorrow. I've just completed Mike's Nature trick of adding in the real temps to each series for the last 20 years (ie from 1981 onwards) amd [sic] from1961 for Keith's to hide the decline. Mike's series got the annual land and marine values while the other two got April-Sept for NH land N of 20N. The latter two are real for 1999, while the estimate for 1999 for NH combined is +0.44C wrt 61-90. The Global estimate for 1999 with data through Oct is +0.35C cf. 0.57 for 1998.
Of course, there's no way in hell someone's gonna get +0.35C cf. 0.57 for 1998 past the sharp minds of denialists. Nate himself isn't too pleased with what he sees as "sexing up a graph" to make a point, but even if the charts don't meet the high standards of The Visual Display of Quantitative Information, they're not cheating the underlying data.
Besides, as Nate observes, 2009 may be the fifth-warmest year on record. And last we checked, prime beachfront property is still opening up along the Northwest Passage.
Add a Comment
Please
log in
to post a comment