Three Sheets to the Pork Rinds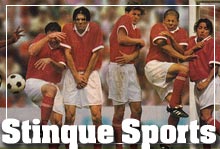 After a year chockablock with examples of the New Racism, it's almost quaint to see old-school haters retake the field:
The Ku Klux Klan is planning to demonstrate at the Ole Miss-LSU football game this Saturday in full robes to protest Ole Miss's decision to stop playing "From Dixie With Love" at their football games.

"We are coming to Ole Miss to say enough is enough on attacking our Christian, southern heritage and culture, and it's time for every person to have a right to freedom of speech," said Shane Tate, the North Mississippi great titan for the Mississippi White Knights of the Ku Klux Klan.
What speech? Turns out that in the middle of the fight song, students chant "The South will rise again." The student council officially changed that to "To hell with LSU" — like anybody pays attention to the student council — and when fans stuck with the verboten version, the chancellor said fine, we'll just forbid the song itself.
However, the Klan's Great Gazoo Titan may have inadvertently recommended Ole Miss to a new generation of freshmen:
"We aren't coming there to cause problems or cause trouble," Tate said. "Trouble has already been caused by a handful at Ole Miss, including the black student body president, who wants to shape Ole Miss into yet another liberal sodomite college."
Truth be told, liberal sodomite colleges are the best party schools.
Add a Comment
Please
log in
to post a comment