Quick: Can You Spot the Horribly Sexist Photo?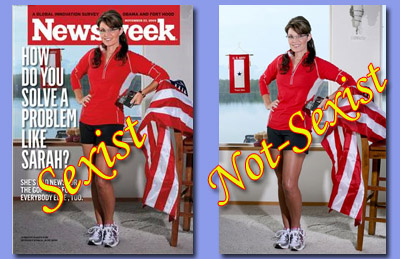 Sarah Palin is angry… again. You see, for the thirteen-hundredth time in as many months, the morally bankrupt liberal media establishment has shown itself to be little more than a grungy, stinking, mud-puddle of squealing sexist pigs, as exemplified in their most recent uncharitable comments about… well, about Sarah Palin. And Sarah Palin, defender of women's rights that she is, is not going to stand for this scurrilous slander of womankind as embodied by the unjustly maligned personage who she, herself, happens to be. No, indeed. If nothing else, Sarah Palin lives by the motto "an attack on me is an attack on all of us" and such an attack cannot possibly be left to stand, unanswered by all of womankind.
And so we bring to you the latest outrage that has so unjustly been foisted upon the virtuous personage of Sarah Palin (and by Sarah Palin, of course, we mean all of womankind… for the two are synonymous and interchangeable). This outrage comes to us in the form of a magazine cover so horribly sexist in its intent, innuendo and execution that… well, it simply has to be seen to be fully appreciated (image shown above, left). You see, what the scurrilous scoundrels at Newsweek have done, is to place on their cover an photograph from a photo shoot that Palin participated in for Runner's World Magazine (image shown above, right). And As Sarah Palin herself has aptly noted, such a move is:
"sexist and oh-so-expected by now."
You see, by placing this image on the outside cover of the magazine, what would otherwise be a flattering portrait of a physically fit State Governor becomes a bludgeon by which the hopes and aspirations of all womankind (and by all womankind, of course, we mean Sarah Palin) are brutally undermined.
Poor, poor Newsweek. If only you'd had the sense to print the photo inside your magazine, where it belongs, your phallocentric, patriarchal agenda (and by that I mean dislike of Sarah Palin) would not so easily have come to light.
Serolf Divad thinks Sarah Palin should put down the bong for a little while.
Add a Comment
Please
log in
to post a comment