Let's All Exploit Murdered Soldiers!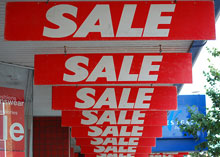 You'd think Apple introduced a new iPhone, the lines are so long to take advantage of a shooting:
The Liberty Counsel released a statement on Monday linking Nidal Malik Hasan, the alleged shooter in last week's Fort Hood massacre, to the gay-rights movement.

"In the wake of the horrific act of Islamic domestic terrorism at Fort Hood Texas, it has been learned that militant homosexual activists recently made similar online postings to those of Nidal Malik Hasan, threatening additional acts of terrorism against Christians," stated an email from Matt Barber, Liberty Counsel's director of cultural affairs, as well as an associate dean at Liberty University Law School.
Said militant homosexual activists are actually commenters at Joe.My.God. And while the referenced post has been deleted, Joe warns his readers not to "post anything, even in jest, that you wouldn't mind saying in a signed letter to your local newspaper."
Here, of course, all Swiftian vituperation is welcome. We're not a target yet.
Peter LaBarbera: The Liberty Counsel Has Called The FBI Over JMG Commenters [Joe.My.God.]
"Gay" Activists Mull "Organized Terrorism" Against Christians [Americans for Truth about Homosexuality]
Add a Comment
Please
log in
to post a comment