Eleven Dead? Now's My Chance!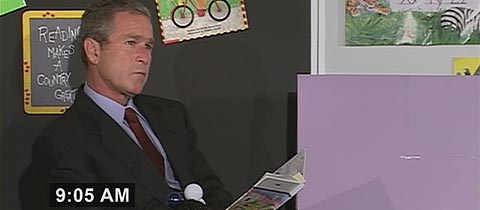 Commentary's Linda Chavez couldn't wait to exploit a tragedy, as her 5:27 p.m. Thursday post makes clear:
We still don't know what was behind the killings at Fort Hood this afternoon, in which 11 soldiers and the killer died, but President Obama's rushed press conference was surprising in its flippancy nonetheless. Before he got to the issue on everyone's mind — namely the deaths of Americans in uniform — the president gave a "shout-out" to government bureaucrats gathered for a previously scheduled conference at the Interior Department, complete with appreciative chuckles. He treated the event like a pep rally rather than a tragic occasion with a wider audience than those gathered in the room. I wonder how many media outlets will compare Obama's performance to President Bush's "Pet Goat" moment on 9/11. I won't hold my breath.
We're not sure whether we qualify as a "media outlet", but here goes…
Obama was addressing the previously scheduled White House Tribal Nations Conference at Interior, where representatives from 564 federally recognized tribes were attending. Although Fort Hood was certainly in the news all afternoon, some in attendance may not have been aware of it — and as this was a planned closing remark, it's not surprising that Obama addressed those in the room before addressing the news for the TV cameras.
It was also three hours after the shootings, which happened at 2:30 p.m. Eastern.
At 3:19 p.m., the AP reported Robert Gibbs saying Obama had been briefed on the shootings, and was being "kept up to date through the White House Situation Room." We were watching CNN when that news broke, and it was suggested that the escalation of Presidential attention was due to the possibility of a conspiracy unfolding on military bases — there were still multiple suspects at the time.
From what we know, in other words, Obama acted the moment he was informed.
George W. Bush, as we also know, was reading a children's book to a Florida classroom the morning of September 11. The infamous video of the moment shows Chief of Staff Andrew Card telling Bush that "a second plane hit the second tower. America is under attack." Bush remains seated another five minutes — and even longer after the video ends.
So perhaps the reason the media isn't comparing Thursday to 9/11 is that Obama did not — what's that word, Congressman Wilson? — dither. But if Ms. Chavez would like to score political points on the not-yet-cold bodies of murdered American soldiers, she's more than welcome to demonstrate her spectacular venality for our pleasure.
Add a Comment
Please
log in
to post a comment