Again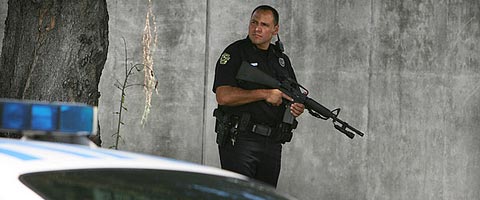 Developing story — this update from 2:36 pm:
Orlando police confirmed that a man suspected in a deadly mass shooting in downtown Orlando has been taken into custody.

The suspect, Jason Rodriguez, 40, is a former employee of Reynolds, Smith & Hill, a transportation consulting company. A SWAT team took him into custody at his mother's house, Orlando Police Chief Val Demings said.

One person is dead and 5 are confirmed shot in the incident, which took place about 11:50 a.m. at Legions Place, an office building near Interstate 4 and Ivanhoe Boulevard. A handgun was used in the attack, police said.
It's early, so nobody is blaming Obama yet.
(Earlier Sentinel reports placed the toll at two dead, 17 injured.)
Add a Comment
Please
log in
to post a comment