Mice Mice Baby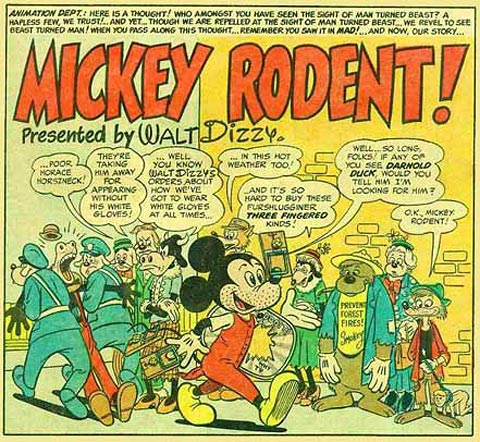 Among the lighter news we've been distracted from the past couple of days is a report that Disney is roughing up Mickey Mouse for a new generation:
The first glimmer of this will be the introduction next year of a new video game, Epic Mickey, in which the formerly squeaky clean character can be cantankerous and cunning, as well as heroic, as he traverses a forbidding wasteland.

And at the same time, in a parallel but separate effort, Disney has quietly embarked on an even larger project to rethink the character's personality, from the way Mickey walks and talks to the way he appears on the Disney Channel and how children interact with him on the Web — even what his house looks like at Disney World.

"Holy cow, the opportunity to mess with one of the most recognizable icons on Planet Earth," said Warren Spector, the creative director of Junction Point, a Disney-owned game developer that spearheaded Epic Mickey.
But Mad's Will Elder — better known for Little Annie Fanny — beat Disney to the punch 54 years ago.
Add a Comment
Please
log in
to post a comment