Hate Addicts Shoot Up for Schoolchildren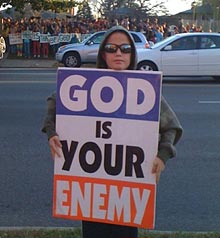 Like Randall Terry, the Westboro Baptist Clown Troupe is usually so predictable in their outrage, it's not worth paying them notice. But today we'll make an exception:
Westboro Baptist Church, the fringe-of-the-fringe anti-gay group famous for protesting at military funerals and claiming that God is punishing the country for its tolerance of homosexuality, was spotted this morning protesting outside Sidwell Friends, the school attended by Sasha and Malia Obama.

Protesters were carrying signs with anti-gay, anti-abortion and anti-Obama slogans, slowing down traffic all along Wisconsin Avenue this morning.
"Anti-Obama" here applies to the entire family, as the Clown Troupe performance schedule makes clear:
Sidwell Friends Middle School – STOP lying to those kids! … Quakers?! Are you frigging kidding me? You pretend to be all non-violent, and you allow the most bloody, deceitful, evil, murderous bastard and his shemale sidekick to place their satanic spawn within your four walls?
Like we say, they're usually beneath notice, but as we've noted before, we thought perverts had to maintain a safe distance from children.
Oh, and did we mention Terry? He's done it too.
Add a Comment
Please
log in
to post a comment