Save the Children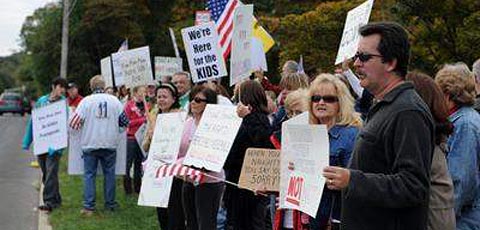 It's not enough that teabaggers are threatening politicians and government employees — now they're going after kids:
About 60 people converged Monday morning on a Burlington Township elementary school that drew controversy — and nationwide attention — for a video posted on YouTube of its students singing songs praising President Barack Obama.

The protesters stood across from Bernice B. Young Elementary School, holding placards and chanting "Shame on you." The Obama song was first staged "in recognition of Black History Month" during an eight-skit program on Feb. 27.
The school district "does not believe that protesting in front of an elementary school in session with four to seven year old children is appropriate," according to a statement. We thought there was a rule about perverts, criminals and douchebags maintaining their distance.
Beck-backing protesters raise ruckus outside much-publicized elementary school [Raw Story]
Add a Comment
Please
log in
to post a comment