Fawlty Towers, New Mexico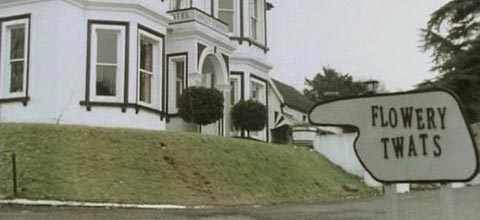 And the award for Best John Cleese Impression of the Day goes to…
Larry Whitten marched into this northern New Mexico town in late July on a mission: resurrect a failing hotel.

The tough-talking former Marine immediately laid down some new rules. Among them, he forbade the Hispanic workers at the run-down, Southwestern adobe-style hotel from speaking Spanish in his presence (he thought they'd be talking about him), and ordered some to Anglicize their names.

No more Martin (Mahr-TEEN). It was plain-old Martin. No more Marcos. Now it would be Mark.
And if you didn't follow the new rules, you were fired.
"It has nothing to do with racism," he says, echoing the Not Marryin' Judge. "I'm not doing it for any reason other than for the satisfaction of my guests."
Mr. Whitten's research into his Taos project apparently didn't include the locals, whom he calls "mountain people" and "potheads who escaped society." "I came into this landmine of Anglos versus Spanish versus Mexicans versus Indians versus everybody up here," he says. "I'm just doing what I've always done."
And really, getting in the habit of speaking English is for their own good. Especially if they get stopped by police in Dallas.
Update: CNN's Jane Velez-Mitchell gets Larry on the phone: "How do you treat the customers when they come in? Do you ask them also to change their names?"
Add a Comment
Please
log in
to post a comment