Take the Wingnuts Bowling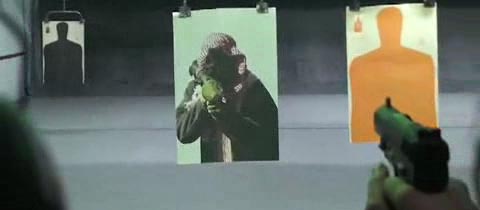 On a day when the world is drinking a Coke in celebration of Pax Obama, some unsettling news from war-torn South Floridastan — a Second Amendment love-in at a shooting gallery got a little out of hand:
Armed with handguns and AK-47 and AR-15 assault rifles, the members of the Southeast Broward Republican Club abandoned the usual community center for their club meeting this week, and gathered at a gun range where they fired bullets instead of political bombshells…

Though most of the targets of gunfire were standard gun-range fare — large silhouettes of a human figure — a few shooters used large color posters instead. They depicted a menacing figure, adorned in a kaffiyeh, the kind of headdress worn by the late Palestinian leader Yasser Arafat. The person in the picture was holding a rocket-propelled grenade.

One of the shooters at the Tuesday evening event was Robert Lowry, a Republican candidate hoping to unseat U.S. Rep. Debbie Wasserman Schultz, D-Weston. Lowry's target had the letters "DWS" next to the silhouette head.
Remember the rule here: The more folks we can get on board to foment assassination, the less chance any single person can be blamed for it.
Add a Comment
Please
log in
to post a comment