Breaking: Nobel Prize Awarded to Kenyan President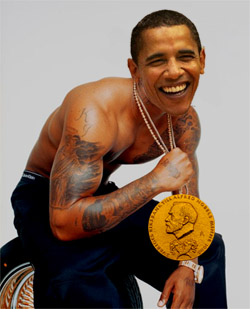 You know that right-winger in the cubicle next to yours? Well you can go ahead and steal that Swingline Stapler of his you've been oogling, because his head is about to explode when he opens his morning paper and learns just who won the Nobel Peace prize without even trying!
(CNN) — President Barack Obama made history again Friday, winning the 2009 Nobel Peace Prize for his "extraordinary efforts to strengthen international diplomacy and cooperation between peoples."

Less than nine months into his presidency, Barack Obama has been awarded the 2009 Nobel Peace Prize.

The Norwegian Nobel Committee recognized Obama's efforts to solve complex global problems, including working toward a world free of nuclear weapons.
It's gonna be sorta like the rapture today, with all the Right-wingers walking around without heads.
Add a Comment
Please
log in
to post a comment