Orly's Got Spunk. The Judge Hates Spunk.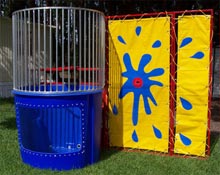 When last we left our story, Orly Taitz was ordered to show cause by Friday why she shouldn't be slapped with a $10,000 fine for insufficiently entertaining Judge Clay Land with her antics.
Her solution? Demand that Judge Land remove himself from the case. Because the Bush-appointed judge is obviously in bed with Barack Obama:
There is some circumstantial evidence that Judge Clay D. Land may have had extrajudicial and ex-parte contacts with the Obama administration, in particular from Attorney General Eric Holder.
Orly refers us to "Exhibit A: Affidavit Regarding Eric Holder's Visit To Columbus, Georgia." Which is all there is to Exhibit A — just that title. Oh, she's good.
Not good enough? Well, how about this:
A preliminary review of the results of the Honorable Judge Clay D. Land's public disclosures concerning his investments, it also appears to the undersigned that Judge Land may be disqualified because he has equity ownership of certain securities (e.g. Microsoft and Comcast) which are aligned both politically and economically with a key Defendant in this case, namely the de facto President of the United States, Barack Hussein Obama, in such a direct and personal way that it could be said that this Judge has a financial stake in the outcome of the former Plaintiff Captain Connie Rhodes' original case-in-chief.
We weren't aware that Microsoft and Comcast were big Obama fans — but then, we also weren't aware that TLC fired Jon Gosselin this week. And while Judge Land does own stock in both, his reported 2007 income from them was less than $1,000 — equal to a rental property he owns in Columbus. We hope he didn't blow his profits on an Xbox.
There's 22 more pages to Orly's missive, but that's all we can handle in one sitting. And we don't even get the pleasure of fining her for dragging us through it.
Add a Comment
Please
log in
to post a comment