No Means No, Orly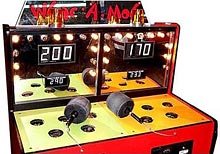 Soviet Puppet/Shrub Appointee Judge Clay Land spent seven pages today smacking down Orly Taitz again, after Wednesday's 14-page whack didn't get the message through. Let's listen in!
Instead of seriously addressing the substance of the Court's order, counsel repeats her political diatribe against the President…, accuses the undersigned of treason, and maintains that 'the United States District Courts in the 11th Circuit are subject to political pressure, external control, and … subservience to the same illegitimate chain of command which Plaintiff has previously protested.'"
You're out of order! The whole trial is out of order!
Simply put, the motion is frivolous… Counsel's conduct violates Rule 11 of the Federal Rules of Civil Procedure, and sanctions are warranted.
Ruh-roh.
Accordingly, Plaintiff's motion for reconsideration is denied, and counsel for Plaintiff is ordered to show cause why the Court should not impose a monetary penalty of $10,000.00 upon Plaintiff's counsel for her misconduct.
We'd be pissed too if you interrupted our lunch break to waste our time.
Warm Up The Bus [Chicago Bureau on Orly & Rule 11/Stinque, August 4]
Add a Comment
Please
log in
to post a comment