Qudzu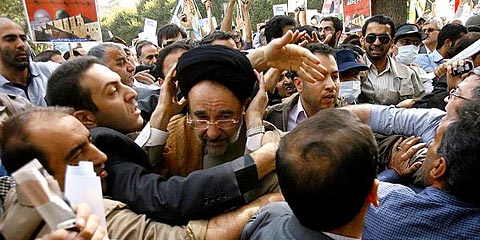 Escorted by his bodyguards, former Iranian President Mohammad Khatami is attacked by hardliners as he attends a Quds Day rally in Tehran. (AP)
Every year, Iran's overlords celebrate Quds Day, a Five-Minute Hate for the masses to stand up as one in opposition to the Zionist devils. Held the last Friday of Ramadan, it's guaranteed to bring the crowds to the streets.
Which, given the mood of Iran's subjects citizenry lately, may not have been such a good idea:
Tens of thousands of protesters swarmed the streets of Tehran and at least two other Iranian cities Friday, audaciously turning an annual rally in support of the Palestinian cause into the first major demonstration against the government of President Mahmoud Ahmadinejad in six weeks.
Oops.
President-for-Life Ahmadinejad was able to get in some practice Jew-baiting as a warm-up for his upcoming UN harangue, but not without some American-style backtalk from the crowd, including "Liar! Liar!" and a suggestion that "Down with the USA!" be replaced by "Down with Russia!"
Many in the crowd even dared to show their green — a highly dangerous symbol to brandish in public these days.
Opposition leaders showed up as well, including former Presidnt Khatami and usurped President Mousavi — neither of whom have been arrested yet, despite an ugly government crackdown that began after a week of major street protests. Khatami's bodyguards fended off a knife attack from a regime-supporting goon, while Mousavi was rushed to his car and driven away when thugs neared.
And as darkness fell, reports ABC's Lara Setrakian, a familiar sound: "Hearing the rooftop Allahu Akbars are 'going extra crazy' tonight."
Friday's surprise protest, while robust, did not change the facts on the ground: the regime still has the guns. But what the regime does not have, and will never regain, is legitimacy. Iranians are in for a long struggle. Days like Friday are what keeps hope alive.
Clashes erupt at Iran mass rally [BBC]
Co-opting Quds Day [Tehran Bureau]
(via Sully)
Add a Comment
Please
log in
to post a comment