One Can Go Too Far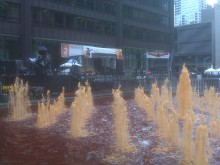 So Daley Plaza cleared out fairly quickly after the first-round TKO of the Chicago 2016 bid — all that remained after a couple of hours were roadies, and a fountain filled with orange soda.
And the people who left in a hush had a serious case of sad.  They believed in the bid — truly and completely, and notwithstanding all of the inherent problems of handing off billions of dollars to the Daley machine, when such money can pay for other useful things.  (On this score, the objections to the bid by Chicagocentric Stinquers were well-documented and, on the whole, well-founded.)
But: Rush Limbaugh?  Glenn Beck?  Weekly Standard hacks?   And, also, a guy who dialed into WGN Radio after Chicago got spiked and blamed Black Eagle for badmouthing America overseas — just after he gave America a big, wet, sloppy kiss?  All of whom were elated not so much that Chicago lost, but that America lost?
Look: I didn't want the Games to come here.  My reasons were out of broader concerns about the well-being of the city I live in.  These guys just wanted Barack Obama to be embarassed.  That's all they care about.  And this — something that is positively trivial compared to health care, or Afghanistan, or all the other things Barry couldn't think about while he was in Denmark for four hours — proves where these people are, mentally, beyond any doubt.
Note to Harry Reid and similarly spineless Democrats in charge of things: the guys whose asses you want to kiss are in league with people who were cheering when America lost at something.  These are the bastards you are dealing with.  A thought: why don't you call 'em out on something like this?  For once?  And not wishy-washy, but in earnest?  For me?  PLEASE??
Add a Comment
Please
log in
to post a comment