The Best Office Money Can Buy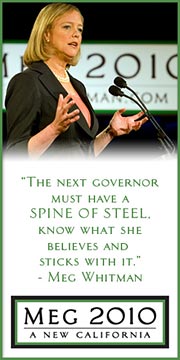 Former eBay CEO, devoted mother, and civic late-bloomer Meg Whitman has a message for Californians:
"The next governor must have a spine of steel. Know what she believes and sticks with it."
Considering Meg didn't believe in registering to vote until age 46 — and didn't even declare herself a Republican until two years ago — that's quite a statement. But our current Governator literally had a spine of steel, and that hasn't seemed to help him much. For that matter, our MBA President didn't do the nation much of a favor, either.
But this is California, and we lurve ourselves a good slow-speed chase. Especially when it ends in a wreck.
Add a Comment
Please
log in
to post a comment