Bachmann to Blame?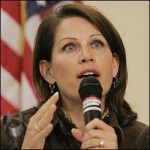 This seems to have gotten past everyone:
WASHINGTON — The FBI is investigating the hanging death of a U.S. Census worker near a Kentucky cemetery. A law enforcement official says the word "fed" was scrawled on his chest.

The body of Bill Sparkman, a 51-year-old Census field worker and occasional teacher, was found Sept. 12 in the Daniel Boone National Forest in rural southeast Kentucky.
Remember when Michele stirred up the wingnuts? Wonder if there's a connection.
[via]
Add a Comment
Please
log in
to post a comment