The March of Regress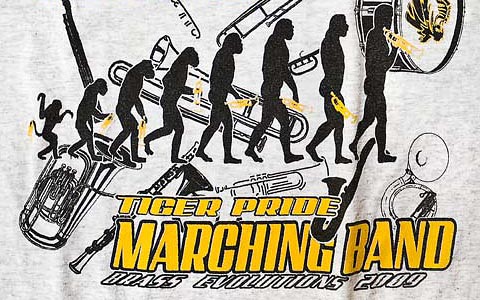 We've never really appreciated high-school movies — they never reflect our own experience. We may have been a card-carrying geek in our teen years, but we had a great time.
We credit the genius of a mid-century architect, who designed our school as a long building with the gym at one end and the auditorium at the other, effectively separating the freaks from the jocks.
We also credit well-funded public schools in the Seventies, when art, music and drama weren't yet considered frills.
And we credit a wonderfully casual attitude among parents, who really didn't care that we proudly displayed a vibrator in the bandroom trophy case, or that we performed a musical called "Lock Up Your Daughters."
Those days are long past, of course. But every so often, something brings them to mind:
"I made the decision to have the band members turn the shirts in after several concerned parents brought the shirts to my attention," [Assistant Superintendent Brad] Pollitt said. 

Pollitt said the district is required by law to remain neutral where religion is concerned.
Try as we might, we can't find a Brass Buddha in the design — oh, wait…
"I was disappointed with the image on the shirt," [band parent Sherry] Melby said. "I don't think evolution should be associated with our school."
Trust us, ma'am, it isn't now.
Add a Comment
Please
log in
to post a comment