Glenn Beck Uses His Get-Out-of-Blame-Free Card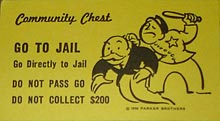 You might recall Glenn Beck a few weeks ago pleading with his viewers not to take him seriously. You'll certainly recall it when Beck puts the clip on permanent loop after someone takes a shot at Obama:
"If you watch MSNBC, I contend that you will see the future. They are laying the ground for a horrible event, that will be — it's what they're laying the ground for, anything from the Right, some awful event, and I fear this government, this administration has so much framework already prepared, that they will seize power overnight before anybody even gives it a second thought."
Setting aside the Rovian Projection perfected by Fox News, let's pretend to take Glenn seriously — that this administration is planning a coup, and just waiting for MSNBC to provide the pretext. If you love your country, if you love your liberty — and of course we all do — what are you going to do about it? How can you face your children knowing you didn't do everything within your power to take out the tyrant?
Meanwhile, the rest of us might ask this question: How many of Beck's remaining advertisers support implicit advocacy of presidential assassination?
Add a Comment
Please
log in
to post a comment