Accredited Trolling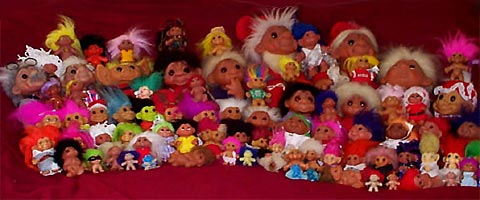 In the midst of our bar brawl spirited exchange with a troll distinguished visitor on Friday, Stinquer "al2o3cr" brought to our attention a curious Fall 2009 course requirement from the Southwestern Baptist Theological Seminary:
At least 10 posts defending aspects of the Christian worldview totaling at least 3,000 words on "hostile" websites.
To be fair, the trolling must be original:
When the professor concludes that a student has plagiarized an assignment, the student will receive the grade of zero for the assignment, and the office of the Vice President for Student Affairs will be notified about the incident.
Don't take that warning lightly — Professor William A. Dembski will call Homeland Security on yer ass if he doesn't like your work.
No, really. We're quite serious. Ask Eric Pianka.
Back in 2006, upon the occasion of receiving the Distinguished Texas Scientist award from the Texas Academy of Science, the evolutionary ecology expert earned creationist Dembski's wrath for a few unkind remarks about our stewardship of the planet. In Dembski's words:
In his Distinguished Scientist speech, Pianka advocated eliminating 90 percent of the world's population by airborne Ebola to save the world. He said we are no better than bacteria and made other intemperate statements.
And sure enough, on page 25 of Pianka's 35-page speech, he does mention the population-reducing qualities of Ebola — in deliberately graphic service of a more general point that humankind is setting itself up for microbial disaster:
We're letting our population grow just like bacteria grow on an agar plate until they've reached the limits; and that's dumb. Humans are no better than bacteria, in fact, just like them when it comes to using up resources. We need to use our brains, rather than merely breed our brains out.
It's all clear enough, in context: Pianka has Malthus on his mind, with a bit more detail than was available in the early 19th century. Saying Pianka wants Ebola to wipe us out is like saying Al Gore wants to drown Florida.
But creationist Dembski didn't read or hear the speech, near as we can tell — just reports of it. And based on that hearsay, he posted this on April 2, 2006:
I blogged yesterday about UTAustin professor Eric Pianka (aka "Dr. Doom") and his advocacy of killing 90% of the world's human population with airborne Ebola. Could Pianka be charged with terrorism/conspiracy to commit a terrorist act?…

As soon as this is posted, I'm going to have a chat with the Department of Homeland Security. [Called them — They are aware of it; it will be interesting to see if they do anything about it.]
Apparently they didn't — must have routed Dembski's call to the Gladys Kravitz Desk.
Meanwhile, Stinque offers a standing invitation to the Fall 2009 students of "PHILO 2483; Intelligent Design or Unintelligent Evolution": You're welcome to troll here any time. We'd love an excuse to learn more about your cretinous colorful professor.
Add a Comment
Please
log in
to post a comment