Douchebag of the Day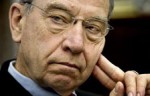 If he keeps winning, we may have to give him some sort of lifetime achievement award:
The questioner, Cheri Heiland, persisted, telling Grassley, "You know there is nothing in the House bill that will require any elderly person to stand before a committee and decide whether or not they are going to live or die." Much of the crowd booed and said she was wrong.

The senator instead went on to condemn the idea of end-of-life counseling, no matter how it is structured.

"I think the best thing to do is if you want people to think about the end of life, number one, Jesus Christ is the place to start, and after that, in the physical life, as opposed to your eternal life, it ought to be done within the family and considered a religious and ethical issue and not something that politicians deal with," he said.
I did not know Jesus offered health insurance.
Grassley is Inhofe stupid.He is Jon Kyl stupid. He is, in fact, Michelle Bachmann stupid.
Why are we ruled by religious morons?
Add a Comment
Please
log in
to post a comment