Douchebag of the Day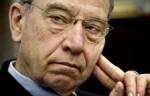 Back again this week, it's Senator Chuck Grassley:
Americans should be scared of provisions in a health care bill currently in the U.S. House because it will allow the government to have a say in end-of-life decisions, Republican U.S. Sen. Chuck Grassley told a crowd of more than 300 Wednesday morning.

"In the House bill, there is counseling for end of life," Grassley said. "You have every right to fear. You shouldn't have counseling at the end of life, you should have done that 20 years before. Should not have a government run plan to decide when to pull the plug on grandma."
If he keeps this shit up he might win Douchebag of the Month.
Add a Comment
Please
log in
to post a comment