Petals in the Wind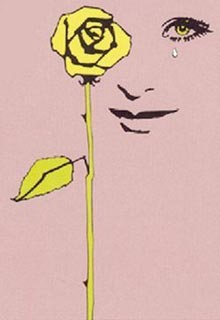 Ladies and gentlemen, there come moments in a satirical blogger's existence when reality is so fabulous, so divine, so fucking awesome, that no premise can hope to achieve the Platonic grandeur of the Thing Itself.
This is one of those moments:
Sarah Palin's opponents like to throw things at her. They throw slanders at her, they throw trick questions at her, they even throw frivolous ethics complaints at her, but we need to let Sarah know: "No matter what the jackals are throwing at you, Sarah, we are throwing roses!"

On the day Sarah Palin becomes a private citizen, July 26th, we want to make sure she knows how much Team Sarah loves and appreciates her for the hard work, integrity, and VALUES she represents and FIGHTS FOR everyday. What better way to say "We love you and support you" then to send bouquets of roses? What better way to show the world that support for Sarah Palin HAS NEVER BEEN STRONGER?!
You can participate in this by sending a rose to Sarah Palin. We are going to send up to 1,000 roses to Sarah Palin on the day she becomes a private citizen with a letter showing ALL the names of everyone who contributes $5 to make this happen!

The Roses will arrive at a special event being held for Sarah Palin and be hand delivered to her to show her how much we at Team Sarah support her.
She can't be leaving us. She just can't. America needs Sarah Palin. We need her. Without her, we're just… well, relieved. But still.
Add a Comment
Please
log in
to post a comment