This Should Surprise No One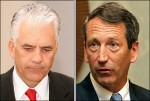 At last – we have some news about our favorite Promisekeepers. Ensign not only won't resign, he's going to run again in 2012. Entitled, anyone?
As for our favorite governor, would it surprise you if discovered he got some help from the conservative media while he was "hiking the Appalachian trail"?  Not me:
In an email to Sanford press secretary Joel Sawyer, Brendan Miniter, an editor of the Wall Street Journal's OpinionJournal.com, called out his own paper's first-day coverage (sub. req.) of the story, writing: "Someone at WSJ should be fired for today's story. Ridiculous."
On June 23rd — by which time Sanford had been missing for five days and his staff had offered unconvincing explanations about his whereabouts — a Fox News Channel correspondent wrote to Sawyer:
Having known the Governor for years and even worked with him when he would host radio shows for me — I find this story and the media frenzy surrounding it to be absolutely ridiculous! Please give him my best.
And a Washington Times staffer at one point wrote in an email to the governor's office:
If you all want to speak on this publicly, you're welcome to Washington Times Radio. You know that you will be on friendly ground here!
But they're Very Serious People!
Add a Comment
Please
log in
to post a comment