When Hypocrites Fall in Love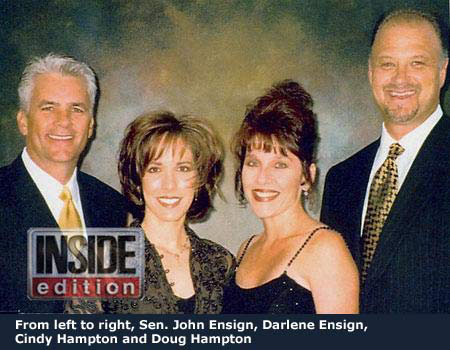 It seems my concern that the John Ensign sex scandal would fade into the background was misplaced:
Doug Hampton spoke publicly for the first time today about the affair his wife had with Sen. John Ensign, saying the Nevada Republican continued his pursuit even after intermediaries tried to get him to stop.

Hampton said that Sen. Tom Coburn, R-Okla., and others urged him to end the affair and help the Hamptons pay off their home and move to Colorado. But Ensign was so infatuated that he continued, Hampton said.
You can watch the first installment of Hampton's interview here – it's positively cringe-inducing. Among other things,  we learn that the estimable Senator Coburn made Ensign send a letter to Cindy, the object of his affection, telling her that their invisible sky god didn't approve of them having sexytime. Unfortunately, Ensign was  back fucking her the next day – he even called her and told her the letter was coming and to ignore it.
John Hart, Coburn's communications director, released a statement Wednesday afternoon saying Ensign should have ended the affair.

"Dr. Coburn did everything he could to encourage Senator Ensign to end his affair and to persuade Senator Ensign to repair the damage he had caused to his own marriage and the Hampton's marriage," according to the statement. "Had Senator Ensign followed Dr. Coburn's advice, this episode would have ended, and been made public, long ago."
Insert bus joke here.
Hampton said Ensign paid the woman more than $25,000 in severance when she stopped working for the senator.

If true, Ensign faces a possible felony violation of campaign finance law if he paid the severance but failed to report it as an in-kind contribution to the campaign committees where she worked, according to ethics complaints filed against him.
Fucking a member of his staff (sorry), insane Christianist beliefs, and maybe even criminal charges.  This scandal is looking better and better!
Add a Comment
Please
log in
to post a comment