Lest We Forget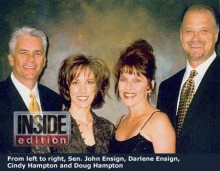 The Las Vegas Sun had a report Sunday that fleshed out the story of John Ensign's philandering:
When Sen. John Ensign hired Doug Hampton to be his senior aide in November 2006, Nevada Republicans were baffled.

Hampton was an unknown, without a policy profile or political experience.

According to eight Nevada and Washington Republicans, Hampton's chief qualification: He and Ensign were best friends, as were their wives.

"It was a hire based on a relationship," said a prominent Republican who was granted anonymity to speak freely.

"Best pals," said another Republican. "It was ridiculous."
Yesterday, TPM linked to the piece and asked if perhaps Ensign hired fellow Promisekeeper Hampton to help him keep his little soldier in his pants:
We reported last month on the Promise Keepers connection, and noted that one of the seven promises to which participants commit themselves is "pursuing vital relationships with a few other men, understanding that he needs brothers to help him keep his promises."

A source told us for that post that when Hampton was hired, the attitude among other staffers was, "This is the boss's religious buddy. We're not gonna bitch about him, but we don't really like him."

In other words, could it be that Ensign — who had had a long unexplained absencefrom his job in 2002, which many observers believe was triggered by another affair — brought his religious friend onto the staff in part to help keep himself on the path of righteousness, but then ended up straying from that path, with disastrous consequences, with his friend's wife?

The word irony would hardly do it justice…
Now the commenters are taking Zach to task for this bit of speculation.  I think it's reasonable to speculate, but then again I'm a jerk. What say you?
Add a Comment
Please
log in
to post a comment