Dead Fish Tell No Tales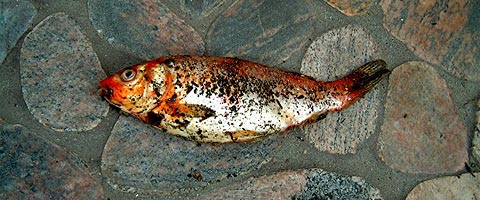 Something's not making sense.
Which isn't news when it comes to Sarah Palin, but bear us out.
Talibunny's minions claim she owes more than $600,000 in personal legal expenses. But back on June 21, the Alaska Daily News reported that a "conservative Web site" boasted of covering $100,000 of that in a week.
Leaving $500,000. And presuming absolutely nothing else was raised since April 24, when the "Alaska Fund Trust" was announced, including coverage in the Wall Street Journal. (SarahPAC, her other joint, doesn't raise money for legal debts.)
Donations to the Trust are limited to $150, for reasons the organizers won't explain, but by happy coincidence matches the Alaska cutoff for 30-day gift disclosures. Trustees promise to release a full list of donors in August, although legally the fund is free of official oversight.
So let's do some math.
It would take 3,334 donors maxing out at $150 to reach that $500k. But times are tough, so let's call it 6,667 donors at an average $75.
Surely Sarah Palin has that many rabid followers. After all, Team Sarah claims 70,000 members. Couldn't they each toss just $7.15 into the cup?
We're not talking Hillary Clinton and her millions of dollars in campaign loans nobody wanted to cover. Hillary was a mere candidate. Sarah is a movement.
Or so we're told.
Team Sarah, you'll recall, ran an open thread on the Palin resignation over the weekend, which by Sunday night had drawn 2,000 comments. Which sounds like a lot, until you realize that a busy thread here can run hundreds of comments — and we don't even have 70 regular members, much less 70,000. Even allowing for a holiday weekend, you would think a few more folks would drop by to offer moral support to their self-destructing heroine.
That is, if they existed.
Do they? Is Sarah Palin a legitimate political force — or is she literally a celebrity, with proven entertainment value but no power beyond her "brand"? Is everyone exaggerating her influence, when she can't even raise enough money to save her skin?
In other words: Is Sarah Palin just empty waders?
Add a Comment
Please
log in
to post a comment