Everything is Rahm Emanuel's Fault, Always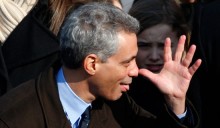 I just hope to God Rahm Emanuel isn't using taxpayer money to come after Alaska.
That's Palin spokeslady Meg Stapleton, basically saying that Rahm Emanuel, and by extension, his community organizing friends, are responsible for Sarah Palin's need to quit everything. Of course, she doesn't realize that if Emanuel had actually "come after Alaska" (Sarah Palin is Alaska!) then she would be found at the bottom of her fishing lake, shot in a grizzly hunting "accident", or smashed to pieces after the brakes were cut on her snowmobile. Rahm doesn't bother with silly ethics complaints, because if he wanted to, he could fuck you up until you're dead, for real.
Meg also said that they're going after her because she "represents the biggest threat to Obama." Because yes, despite the fact that the election is three and a half years away and Obama needs to deal with the economy, health care, the gays, the Afghanistan, Iran, Iraq, North Korea, and Silvio Berlusconi first, he's really the most worried about a half-literate two year governor whose biggest accomplishments have been having a special needs baby and becoming a grandmother in her early 40s.

Anyway, Robert Gibbs responded with derision, as he is wont:
The charge is ridiculous. Obviously there is no effort … From my vantage point, a lot of the criticism she is getting from others seems to be generated from self-inflicted wounds.
Damn straight. He called her a cutter.
Add a Comment
Please
log in
to post a comment